#30009 Bench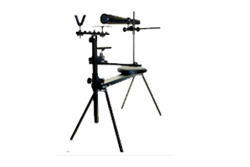 This Product Has Been Discontinued And Is Here For Reference Only.*
The Back Pack Varmint Bench is a full featured shooting platform that is both steady and easy to transport.
Notice: This product should only be used be used by a competent, experienced person on a modern weapon, in good mechanical condition that has been certified safe by a competent gunsmith.
Multi Position Gun Rest
Adjustable Scope Mount
Comfortable Seat
Adjustable Elbow Rest
Folds to a Compact 33″ x 11″ x 15″
Weighs only 24 Lbs.