#30265 Compact Revolver Grip Light
The Grip Light was developed based on comments from a retired San Diego, California law enforcement professional. The officer indicated that in many situations it would be advantageous to have both his weapon and illumination device in the same hand, thus leaving his other hand free. He further indicated that he and many of his associates carried a Smith & Wesson J Frame as their back up weapon of choice. Further research revealed that the J Frame and its various configurations is not only currently manufactured in 39 different models by Smith & Wesson, it is also the single most popular small frame revolver ever manufactured. It became apparent that for both law enforcement and civilian applications a lighting device that could be integral with the gun and operated in conjunction with the weapon, would provide a tactical advantage for the user.
The HYSKORE® Compact Revolver Grip Light is not a conventional add on such as lights attached to an accessory rail or frame of the gun. It is, in fact, a complete replacement grip assembly that houses the electronic circuitry, the battery, and a light module powered by a super bright CREE® LED diode. The frame is constructed from die cast aluminum, is light weight (4.2 oz.), and has tactile thermoplastic rubber (TPR) inserts along with diamond checkering in the aluminum to provide a comfortable surface with excellent traction. Not only is the aluminum light weight and strong, it also acts as a heat sink to wick away the heat generated by the LED. This allows the light to be on for extended periods without excessive heat buildup. The J Frame accessorized with the Grip Light easily fits into a pocket or any one of numerous conventional holsters that are commercially available. The Compact Revolver Grip Light is the ultimate accessory for the J Frame Revolver.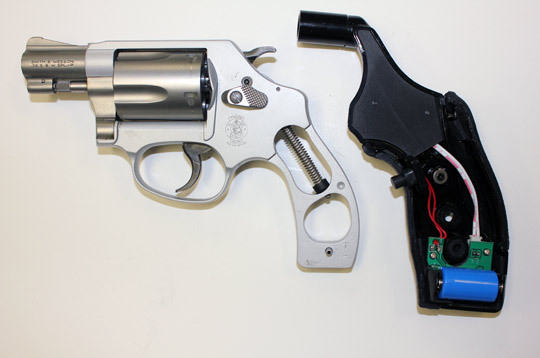 This set is a complete grip assembly.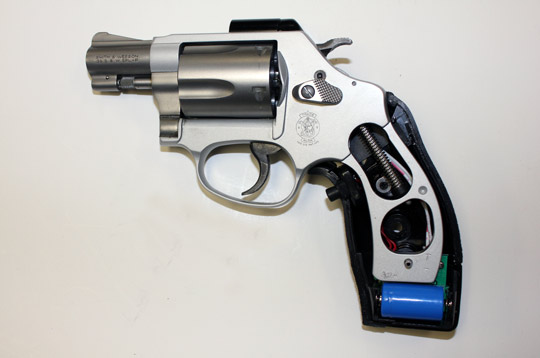 This set is a complete grip assembly.