#30284 Vise Grip Shooting Sticks
Shooting sticks and the various permutations thereof are extremely popular in Europe and Africa but to a slightly lesser extent in the USA. Clearly any type of accessory device that supports and stabilizes a gun provides a substantial advantage to shooting in the field. Generally speaking, shooting sticks appear in 3 different configurations. Single stick, 2 sticks that cross and a tripod. As you advance from single stick to tripod clearly the stability and support increases proportionately. In addition, the weight also increases, thus we have a trade-off between weight and stability. However, at the end of the day the primary purpose of shooting sticks is to provide stability so that the shooter can make the shot. After walking two or three miles and finding that you have missed your shot because your light weight shooting sticks did not offer sufficient support will certainly bring this trade off into sharp focus.
The HYSKORE® Vise Grip® Shooting Sticks can be set to function either as a two stick system or a tripod. That way the shooter makes the decision on what they want to carry. Going further, the Vise Grip® System, as its name implies, incorporates a vise that grips the gun and increases stability exponentially. The vise can easily be removed if necessary. What the shooter will find is that using the tripod configuration with the vise will provide an incredibly stable shooting experience. At HYSKORE® we also realize that shooters do not always assume the same shooting position for every challenge while in the field. They can be standing, sitting, kneeling, or in a blind. Therefore, the Vise Grip® Sticks have been designed so that they can accommodate sitting, kneeling, and blind shooting in their unextended configuration and then with the addition of the easily attached leg extenders they provide a standing solution; even for shooters over 6′ tall. Experienced shooters may have noticed that almost all extend-able shooting stick systems use round, telescoping legs. Many have also noticed that when they get wet many have a tendency to slip out of position ruining the shot. The Vise Grip® Sticks use square steel tubes with positive locking spring clips to secure the leg extensions. Generally speaking, the HYSKORE® Vise Grip® Shooting Sticks will give the shooter the widest range of options to suite their personal requirements and be adaptable to any field situation.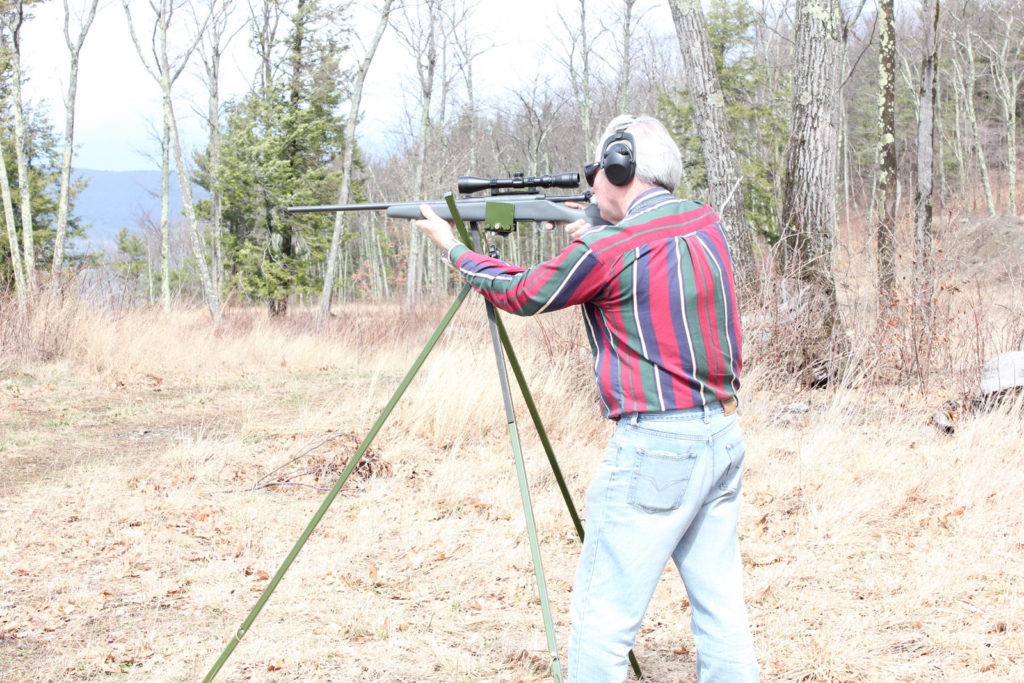 With the 3 legs in place the Vise Grip is a rock stable portable shooting platform.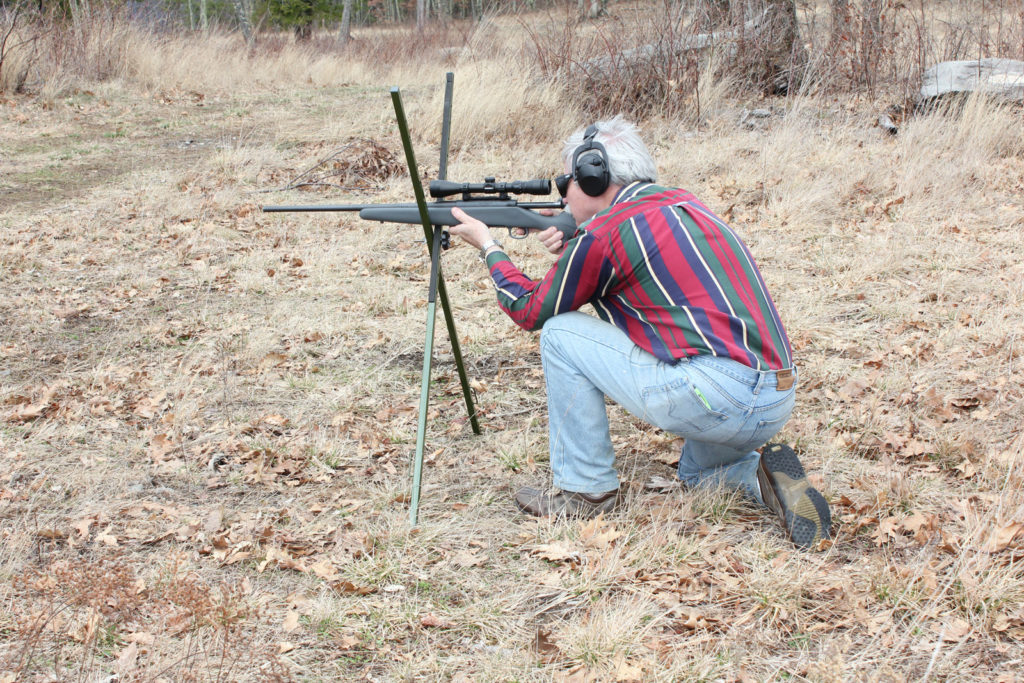 The set can be used as shooting sticks for shooting from a blind or kneeling.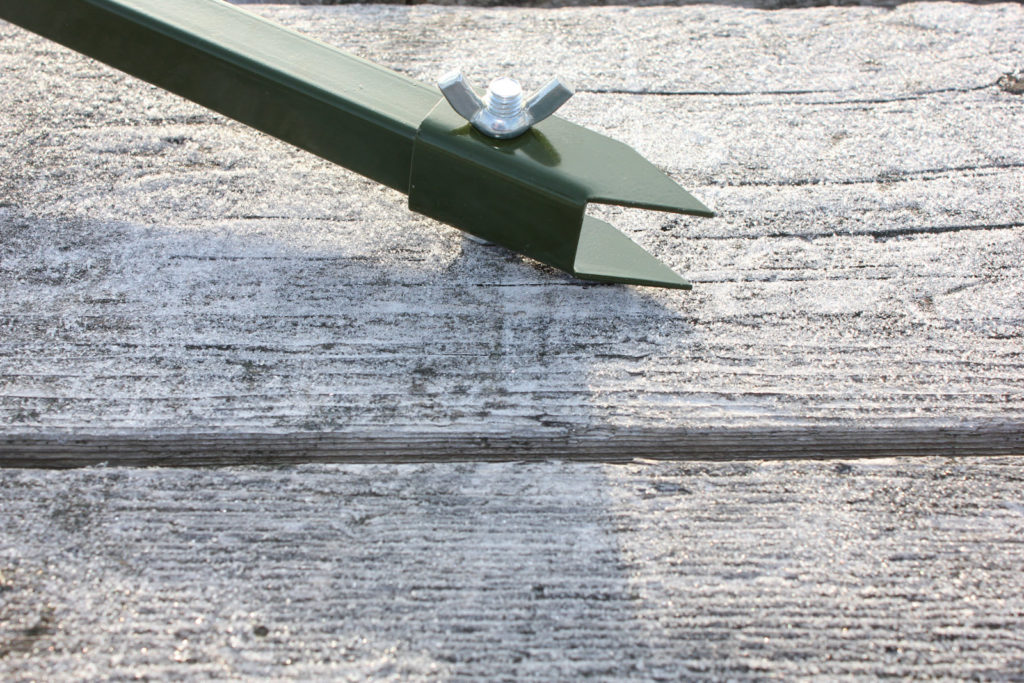 The set includes ground stakes.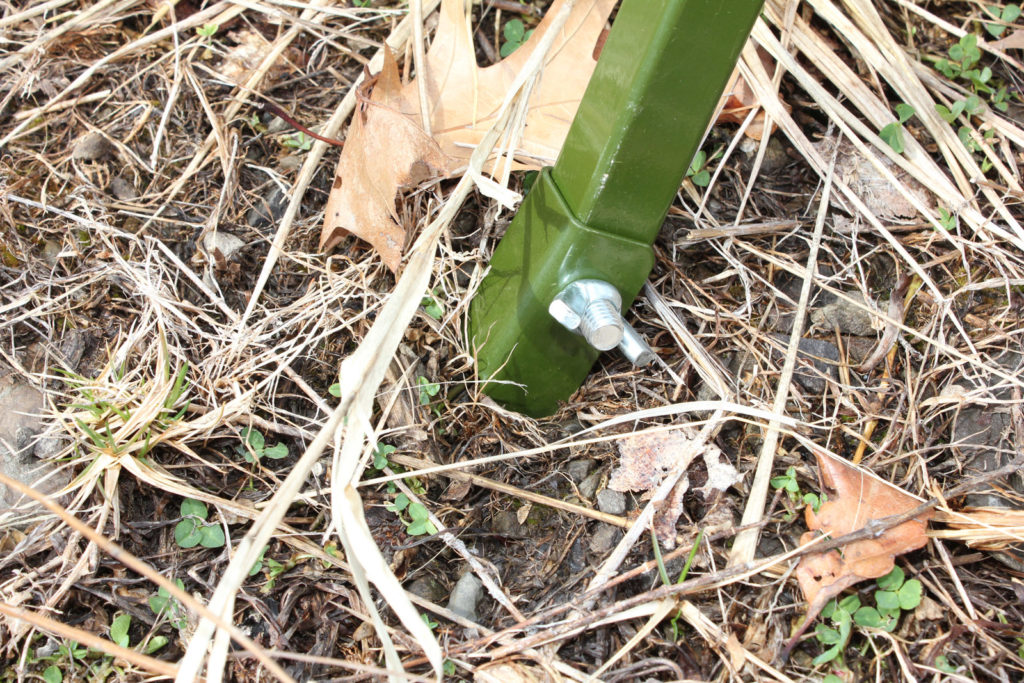 Ground stakes give firm purchase on turf or soil.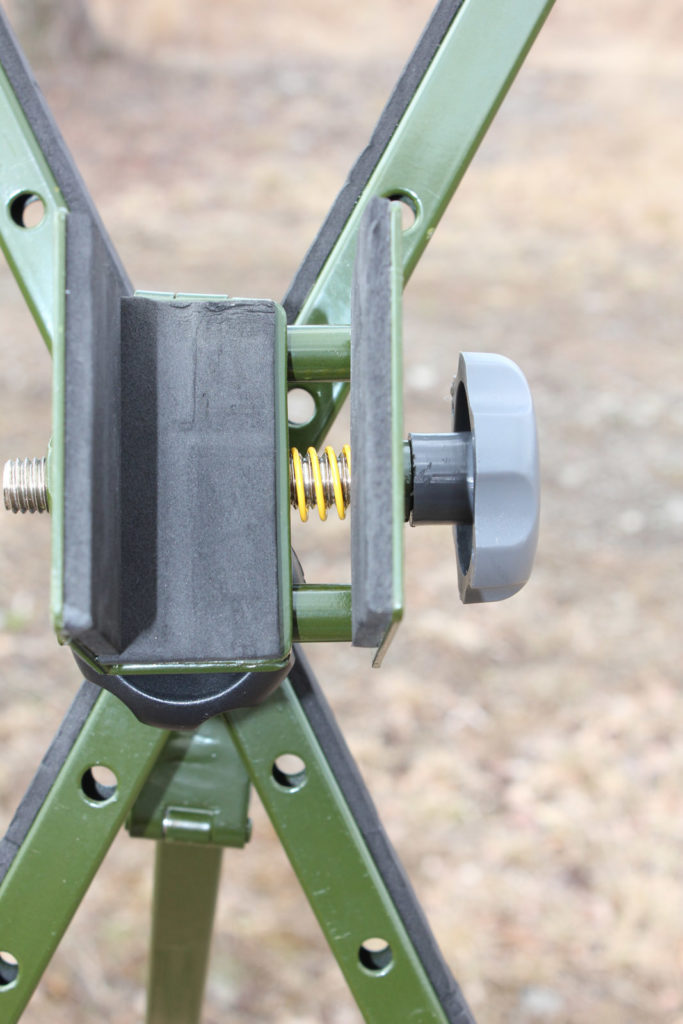 The vise has foam padded jaws.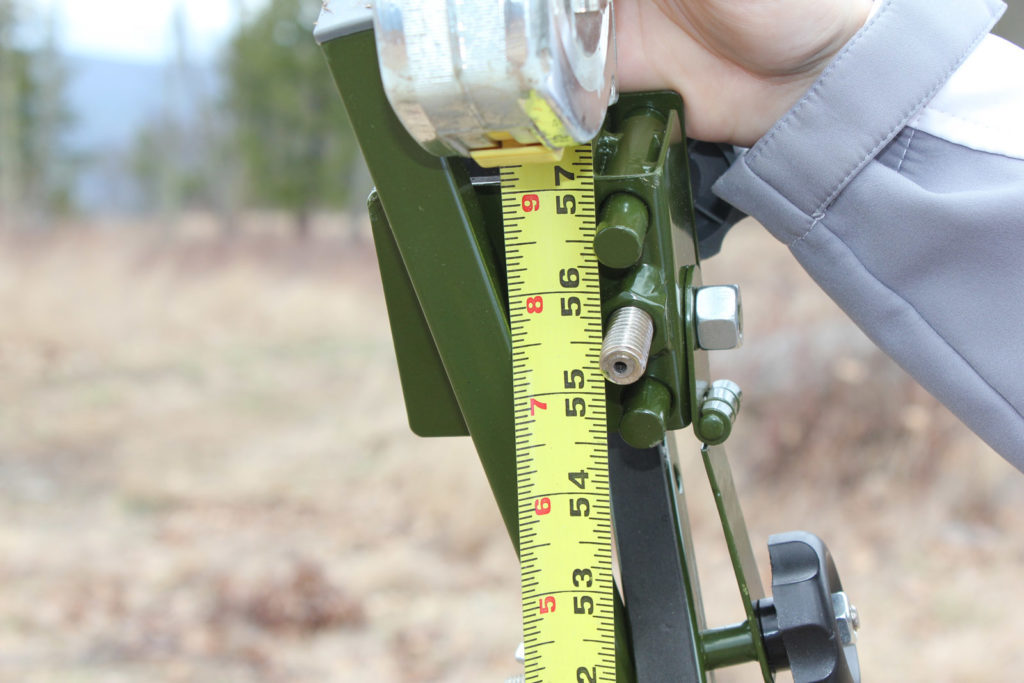 With the leg extenders in place the gun can be supported at 57″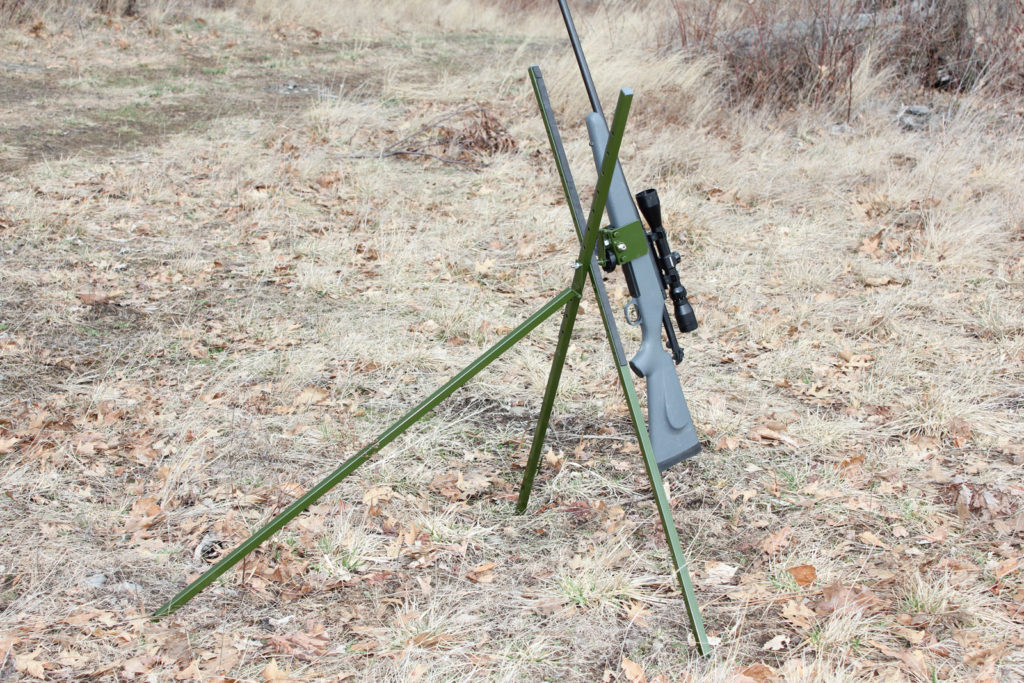 The vise can firmly grip the gun and hold it so it's ready for action.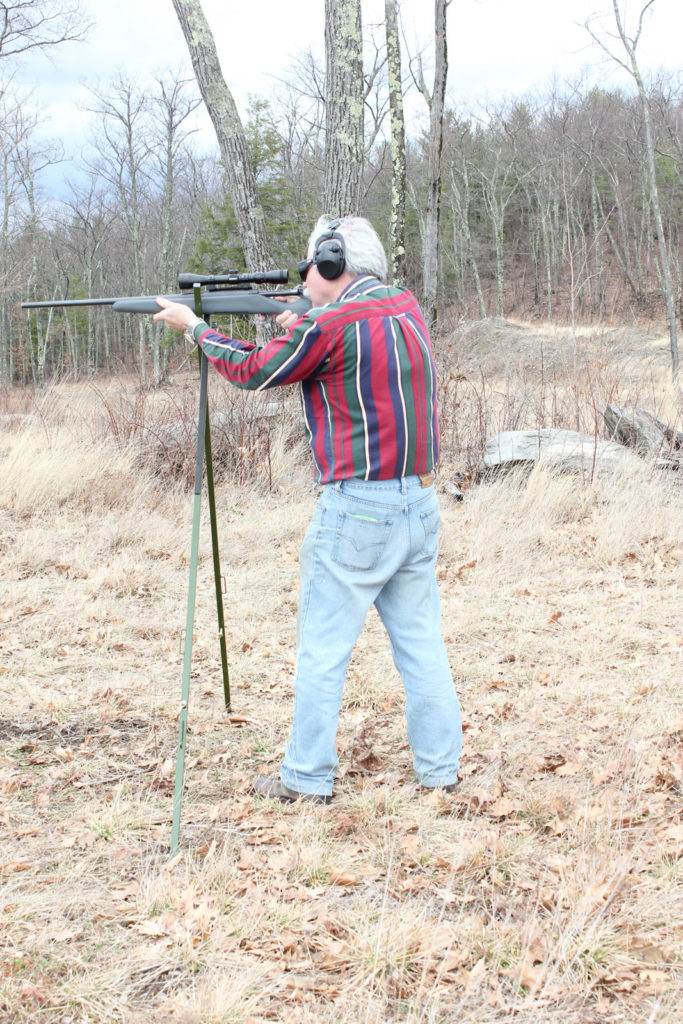 With the leg extenders in place the Vise Grip functions as shooting sticks.