#30100 Master Armorer's Vise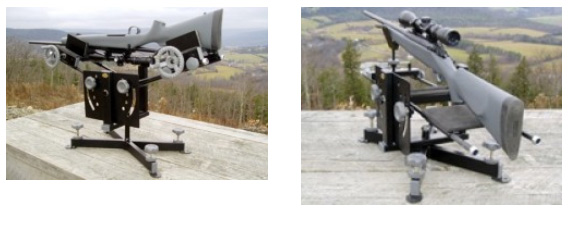 This Product Has Been Discontinued And Is Here For Reference Only.*
The Hyskore® Master Armorer's Vise is the most versatile long gun maintenance fixture available any place. It rotates 360° and has 2 self centering foam padded vises that adjust to any length weapon. The vises ride on opposed sets of rails with a wide range of angular adjustment. This allows an AR-15 upper receiver to pivot away from the lower receiver with both halves firmly secured. The rails supporting the vises can be angled upwards so that any gun, even with a scope can be securely inverted for working on the underside. As a bonus, a "V" notch gun support and padded platform are furnished so that the vise can be used for 3 – 5 shot sighting in or as a shooting rest. The platform can be angled to match the drop at the heel to provide more contact area for the butt stock.
Notice: This Product should only be used by a competent, experienced person on a modern weapon, in good mechanical condition that has been certified safe by a competent gunsmith.